We are ready to make your Holidays feel great
Meet Mr. Waleed
Mr. Waleed is our Umrah Expert and he will be with you during your Umrah. In Bisa Jalan Jalan, Umrah is very spiritual and very personal and the most precious trip for every guest and we want to make sure that your journey to Rumah Allah will be a memory of a life time and you will be a better and humble person after coming back from Umrah. May Allah bless you with abundant of Barokah.
Meet Mrs. Sita
Join our team from April 2016, Mrs. Sita, a wife and a mother of one little daughter, is a person which has dedication to serve our client. She likes to help and hardly say no to your request even when sometimes your request is not listed in your itinerary. Sometimes her ability to say no, lead to trouble to herself. But now, she already can adapt with it and will fully guarantee to go as your itinerary. Usually during busy season, Mrs. Sita will travel to Japan and handle of some private group tour with her. As Japan Expert, now Mrs. Sita also well-known as Korea and London Expert. Yes, we open Korea and London Private Tour since March 2019.
Meet Mrs. Ami
Boarding since March 2018, Mrs. Ami is our Japan and Hokkaido Expert. She will give her best to make sure you enjoy your holiday in Hokkaido and eat delicious food there. Have you eaten fancy ice cream 7 layers in Hokkaido? She will bring you there without hesitation.
And for those who want to enjoy Alpine Kurobe Route Tateyama, Mrs. Ami is the right Travel Companion for you.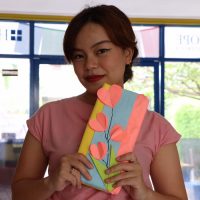 Meet Ms. Astri
Join the team with her skill in mastering Australia Tour, she is definitely one of fresh soul that suit you if you want to explore Australia from Melbourne to Sydney, no matter type of transportation you choose. Ready to rumble with us?
Meet Mr. Rendy
Mr. Rendy join the team since March 2017 and He is responsible for sales. He is our front liner who always welcome and greet you via whatsapp and messages. Beside as front liner, Mr. Rendy also responsible for handling domestic client who want to travel around Indonesia.
Meet Ms. Dea
Have you ever visit us in our tiny but fancy office? You will be greeting by Ms. Dea. On boarding since February 2019, Ms. Dea definitely one of our core team that willing to serve you inside our office. She is also responsible for creating your document, invoice and all tour related paper. And for those who want to know person behind our social media, Ms. Dea is the one.
Contact Us:
Address:
ROXY SQUARE
LANTAI LG BLOK B5 NO. 15
KYAI TAPA NO. 1 TOMANG JAKARTA BARAT 11440